It's funny how some people use the phrase,"It's like having a monkey on your back", to explain this disease. For me, MS feels more like walking around with Godzilla on my back, but no one else can see him. But even with this, some days he's not there and I can venture off.
On this day, I jerked myself from behind the safety of my computer screen and went outside. I was feeling remarkable healthy, so I decided to make a trip to the hair salon. I try to go even when I don't feel like it because I usually leave feeling good from the inside out! So, off I went. I aim to go once a week, if I can. Plus, it's a Dominican spot so everyone there speaks Spanish. I love it! You may remember, I've been trying to teach myself Spanish for the better part of my adult life! That's the main reason I picked this shop, plus they knew me when I could walk. That's always a plus. Anyway, I go there not only to get my hair washed, rolled and dried, but also to brush up on my Spanish skills. They all know I'm learning. I wonder if when they see me they say,"Oh no, here she comes!"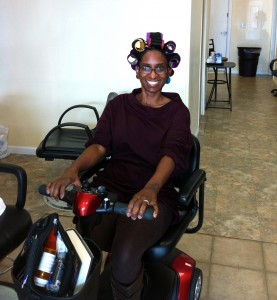 I hadn't brought my scooter there before, so I wasn't quite sure how it was going to work out. I am usually in my wheelchair and because of the inclines, within a few minutes I have to get someone (usually a stylist) to push me. But, this time the scooter allowed me to flex my independence muscles and within minutes I was zipping around the entire shop. I drove from the front of the salon all the way to the back where the potty was. It wasn't crowded so that made things much more streamlined. I was able to maneuver my way over to the hair washing sinks with no problem. Then after my stylist washed my hair, within seconds I was under the hair dryer. Though the dryer is only mere steps away, usually it amounts to a cumbersome process for all involved, as is anything to do with my wheelchair and I. That's why I tip good when I'm there!
When I called my husband to come pick me up he was surprised at how quick this appointment was as compared to previous visits. By using my scooter I cut about thirty minutes off the entire process.
I love getting my hair done there. To be honest, it's the social interaction that draws me there. It's the minor amount of autonomy I exude while I'm there. It's the little break hubby and I get from each other. It boosts my mood. It distracts me from Multiple Sclerosis.
I just hope the salon enjoys me as much as I do them!
Adios.