The reason for my outbursts of relatively gloomy posts is because I just can't seem to get a handle on what's happening to this MS body. I just want some sort of reprieve. Now, I say this fully aware that things could always be worse. I am learning from your comments and my readings that the essence of who I am is still here. It's perhaps why I continue to blog through this onslaught of "new normals".
I just don't know of any of my MS friends who are continuing to encounter decline. Or do I? Please let me know because I'm feeling alone on this one.
One good thing is that I recently started horseback riding. I began the process of registering a while back. There was quite a bit of paper work involved. I refer to it as legal mumbo jumbo. But once I got past that I was on my way to the horse farm.
Basically, the type of hippo-therapy I am doing mimics the action of actual walking. It works my core tremendously and also the muscles used for walking. I've been riding for three weeks. I go once a week for 45 minutes. I had to work up to 45 minutes of course, at first lasting for only 20 minutes. Since starting I find getting up out of the bed easier, so I think I may be experiencing the benefits already.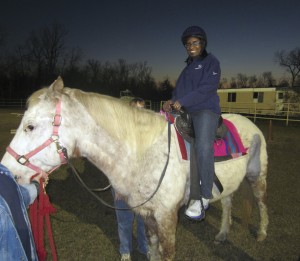 Though, I may be on this slippery slope, it's so important who I surround myself with. I try to associate with supportive folks that love and help me in all my endeavors. I mean riding horses with spastic legs, minimal core strength and slight cognitive impairment is pretty risky business.
But listen, if you tell me this may move me closer to walking with even a walker then…SADDLE ME UP!
By the way they call it therapeutic horseback riding and it may be covered by your insurance if you get a prescription from your doctor. So far I recommend it. I guess Ann Romney was on to something.