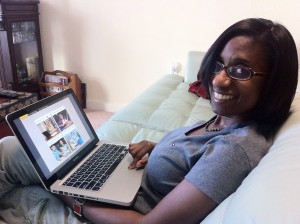 I'm worse now. There's no denying this. Things are harder for me. Getting dress is exhausting. Applying make up is no longer a constant, it takes too much energy. We tend to analyze our life and take stock of our ourselves around New Years. I've been putting this off on purpose. I'm afraid I won't measure up.
I always wonder what people think when they see me. Especially, if they haven't seen me in a while. These days "a while" amounts to only weeks. My meetings have become strained. Are you shocked? Maybe afraid to approach me? It's okay. Just remember, respectful greetings can be mutually beneficial allowing for both of us to get on the same page quickly. "Well, Nicole you've certainly changed since the last time I saw you!"
Here are more options for engaging with disabled people- How To Be With A Disable Person by Cathy Aten.
I know it really depends on what I exude myself. But the truth is MS is a part of who I am. I think that's okay to admit. Afterall, it's only a part. That's the good news! There's so much here. Parts I didn't know existed. For instance, I never imagined I'd be this close to acceptance of this new normal. I never guessed I wouldn't be mad anymore. Mad at whom you ask? The world. For a while I was upset with everything. MS has encroached on nearly every aspect of my life. I can't pretend this doesn't hurt.
That being said, how am I compared to 2010? Physically, I'm certainly weaker and slower. However, emotionally I'm stronger, more resilient and tenacious than ever. This year, I realized that Multiple Sclerosis wasn't given to me to destroy me, but it has thrust me into a certain temporary physical experience, much different than before. Looking forward to 2012, my new normal is uncertain. The reality is next year I may worse or better, but the one thing I can bet on is it will be different.